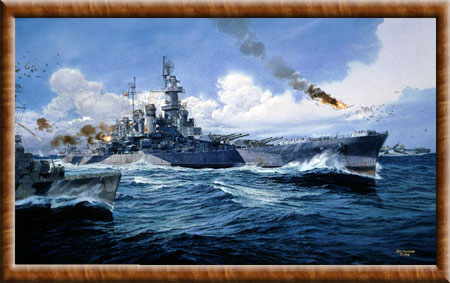 "The Fighting Carolina"
Freeman
---
Welcome Aboard!
Welcome Aboard the Battleship USS North Carolina
Battleship North Carolina is open every day of the year from 8:00am to 5:00pm (through May 15.) From May 16 through September 15th, the ship is open from 8:00am to 8:00pm.
Plan to spent some time walking through history. Portions of the nine decks are open for your entertainment and educational pleasure. Explore the pilot house, engine room, sick bay, the coding room and a rare Kingfisher floatplane. Climb inside the big guns. Enjoy getting in touch with World War II and our proud Naval heritage.
To see more of the Battleship North Carolina, patrons can also tour a variety of optional areas which include the engine room, 16-inch ammunition handling and stowage area, bridge, and admiral's cabin. It takes an additional 1 1/2 hours to view these spaces.
After the tour, stop by the gift shop, relax in the snack bar or enjoy the riverside picnic grounds.
For Our Visitors
How to use this Web Site
As you visit the pages of this site, you will see many of the facets of the NORTH CAROLINA. We will take you through the areas of the ship open to the public at this time. We will also show you to places not seen on the public tour. You will read the history of the NORTH CAROLINA and her involvement in World War II. Learn about the associations that maintain and sponsor this memorial. Read from the documents maintained in the museum archives. See the pictures, both past and present, that tell the story of this ship.
As there many pages and sections on this site, we suggest you visit the Table of Contents to get an overall idea of what is included here. This site is growing daily, so come back often to find new treasures.
We also invite you to participate in this project. Join the Friends of The Battleship. Give us your comments and suggestions on the Guest Log.
Much of what you will read in these pages are stories related by the men who served on the NORTH CAROLINA. Their stories and memories bring us closer to the true living history of this proud ship. So again, welcome aboard! We hope you enjoy this tour of the Battleship NORTH CAROLINA.
For More Information
BATTLESHIP NORTH CAROLINA
PO BOX 480, WILMINGTON, NC 28402
1-910-251-5797
FAX 1-910-251-5807

You are visitor
This Page was updated: 07/29/99