The Second North Carolina
3/21/1906 ~ 9/29/1930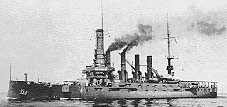 The second U.S. Navy ship to bear the name was an armored cruiser, number 12, built by the Newport News Shipbuilding & Dry-dock Company in Newport News, Virginia. The keel was laid March, 21, 1905, she was launched on October 5, 1906, and was commissioned on May 7, 1908. She was 504 feet 6 inches in length, with a 72 foot 11 inch beam. She displaced 14,500 tons, and had a top speed of 22 knots.
On November 5, 1915 she was the first ship in the world to launch an airplane with a catapult while underway.
On June 7, 1920, her name was changed to Charlotte to make way for the new super battleship, number 52. As Charlotte she was decommissioned on February 18, 1921. Her name was struck from the Navy list on July 15, 1930, and she was sold for scrap on September 29, 1930.